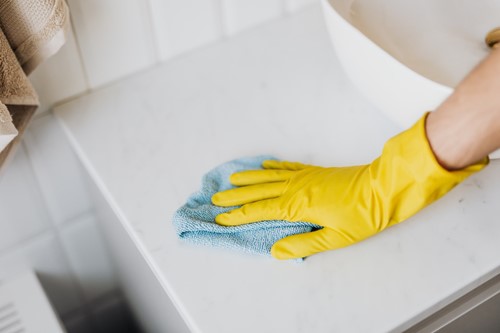 Marble is a popular material for many home furnishings and decorative accents. You usually find marble included in kitchen and bathroom designs where it can add luxury and beauty to the space. If you're thinking about using marble in your bathroom renovation, there are some important things to consider. Here's everything you need to know about using marble in your bathroom and other high-moisture areas:
Marble Rust & Water Stains
Marble may seem like a perfectly hard surface, but it is a very porous material. This means that it absorbs moisture of all kinds, whether it's steam from your shower, splashes from the sink or even a spilled cup of tea. This makes timing crucial in cleaning up marble stains, as you want to remove the extra moisture before the marble has time to absorb it.
If you're considering using marble in your bathroom or other high-moisture areas, your primary concern will be marble "rust" from regular water exposure. Rust stains are likely to appear around faucets or within sink basins. You might also find rust around fixtures in the shower that don't dry out as quickly as the rest of the surface.
How to Remove Marble Rust
Luckily, you don't always need a professional to help clean up marble rust. You can remove most water stains with a combination of household ingredients mixed into a DIY cleaning poultice. Depending on the severity of the stain, the ingredients may vary—however, the most common combination includes baking soda, water and sometimes small amounts of hydrogen peroxide. Avoid using harsh cleaning ingredients like bleach or lemon juice, as they will just cause more damage to the marble.
How to Avoid Marble Rust
It's easy to avoid marble rust in the first place with proper sealing and regular care. You have plenty of choices of marble sealer on the market. No matter which type you choose, it's best to re-apply it every few months. To help protect the marble in your shower or sink, wipe away extra moisture after each use with a towel or squeegee.
Marble can make a beautiful addition to any room including bathrooms and kitchens. However, because it's such a porous material, expect some marble rust from water exposure in high-moisture areas. Keep these factors in mind if you're considering marble in your next renovation.