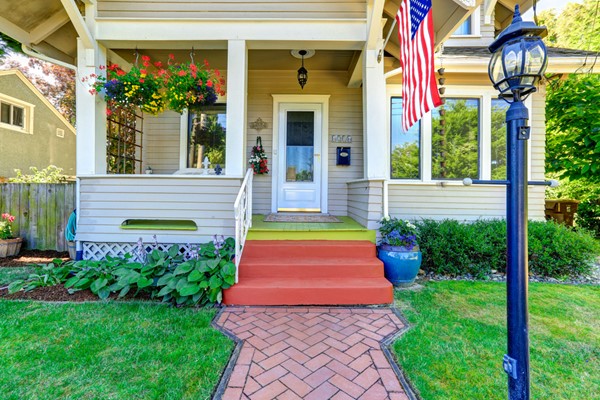 Curb appeal alludes to the visual attractiveness of your property by way of the road or sidewalk. When it comes to curb appeal, you can look to many places for inspiration. Entire magazines are dedicated to the topic, and many television shows, YouTube channels, and online blogs will give you unending advice on how to improve the look of your property. You can explore anything from simple DIY to large structural elements.
Keep it Clean
Curb appeal always starts with a piece of property that is clean and tidy. Pressure washing the exterior of your home and the driveway is a great start. Make sure your yard is mowed and edged with any debris cleared away. Trees and shrubbery need to be pruned up and in healthy condition. You will want to wash the inside and out of all the windows. Repair anything that may need attention such as loose siding, pavers or door handles for example. If your property has fencing, you will want to check the entire perimeter for any maintenance.
Pretty as a Picture
The landscaping choices and exterior elements of your house are the main pieces that make up your property's curb appeal. The layout of the yard can create a picturesque view for onlookers that sets a welcoming tone. Bear in mind the style of your home and the surrounding neighborhood. A simple pathway leading to your front door beckons; welcome. Well-manicured lawns and interesting plantings can speak volumes to the passerby. The way you play with different heights of plants, trees, and any architectural features can draw onlookers to take a second look. A wraparound porch with rocking chairs and some hanging baskets of colorful flowers on a farmhouse-style home invites you to pull up and sip some lemonade. A craftsman home with a beautiful pergola is a striking image that can create a porch-like feel in a small space.
In Living Color
The color combinations are a big way to make a statement. From the color, you choose for your house to the flowers and leaf colors in the yard the entire palette needs to work together. The front door color can make the whole front porch area pop. Trim colors can add dimension so can shutters, awnings, and gables. Placing a few containers strategically near the front entryway can add a lot of color and drama but doesn't take too much time, effort or money. You can keep the containers seasonally up to date and reap the curb appeal rewards all year long.
Tour some local open houses this weekend and note what elements of the curb appeal you enjoy most.