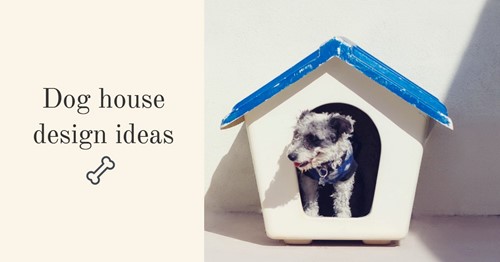 Working from home, our dogs often like to get involved in what we're doing. Whether that's a video meeting, a spreadsheet marathon or simply your daily grind, your pooch will want to play, sniff, snuggle and smooch. So, why not give them a place to relax and while you finish your daily tasks?
Here are a few indoor dog house designs for your favorite pup and how to get started building them:
Standard dog house
Your average-sized dog house is probably best for a medium-sized dog around the 30 - 50lb range. This dog house is typically shaped as you'd expect, like a small house for your furry companion. However, there are a few ways to spruce it up and make it blend with both your pooch and your home.
Since this is an indoor structure, your panels can be made from a variety of lightweight materials, such as plywood, for a more permanent structure, or reinforced cardboard for a portable and upcycled dog house.
You'll typically want to start with the foundation of the house, then move to the front and back panels. Once those have been assembled, start on the roof panels. For those who'd like a more fortified structure, try using 2×4s for support beams. Just make sure the supports and foundation are big enough for your dog's body and space for them to move around.
Adding jute shingles and pleats can help give your dog's new relaxation corner a rustic, natural feel. Painting the wood with bold and dense colors can help pull a more contemporary accent to your home office.
Soft dog houses
For those searching for a more flexible option, soft dog houses provide a quiet place for your pooch to lay their head without having to pull out your tools.
These houses are typically made with hardy fabrics such as canvas, corduroy, tweed or other ribbed and thick fabric. You'll also need a few supports such as thick wooden or PVC sticks that can be purchased at a craft store.
These dog houses can get as funky as you'd like them to be, and are perfect for small to medium-sized dogs.
Pup in a cubicle
For those with larger dogs, whose heads may be a bit too tall for your average dog house roof, try creating a dog cubicle. These can typically be created either from dog pens or by building a small fenced-in area in your home.
You'll also want to create a few weighted foundations for your dog's structure, to ensure it doesn't fall over while your pooch is tending to their workday tasks.
Be sure to incorporate a "cave" area toward the back of the cubicle, so your pup has a place to take lunch break naps or sit back and shadow you during yours.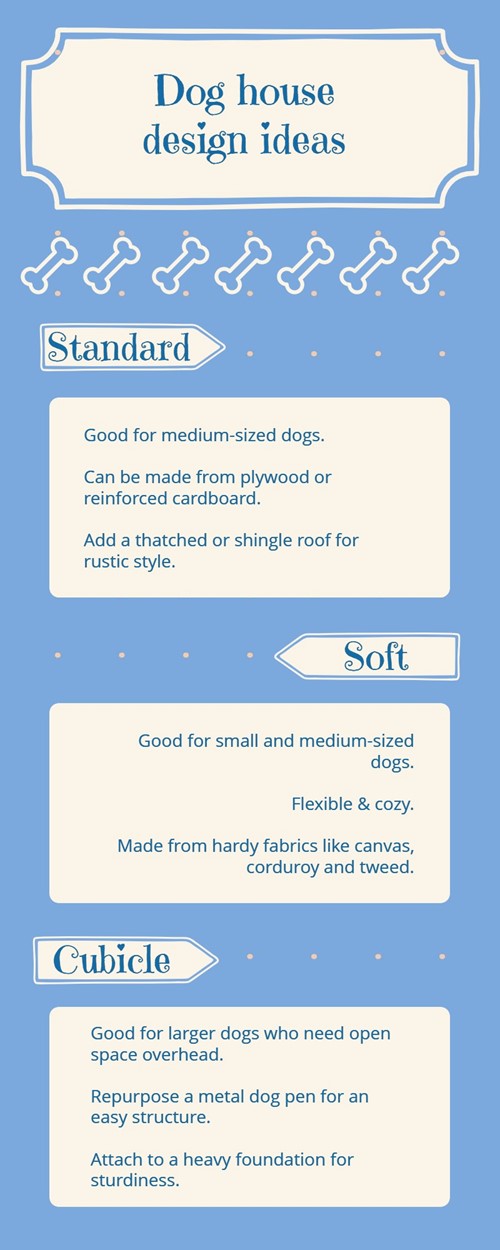 These are just a few dog house ideas for your furry coworkers. Just basic building skills alone will provide you a great start for your pooch's setup. And for those who are just getting started in the world of building and crafting, step-by-step instructions are available at a variety of online and in-store locations.